Greg Schuetze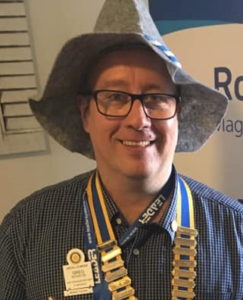 President 2019/20
Welcome to the website of the Rotary Club of Magill Sunrise.
We are a group that enjoy ourselves whilst keeping informed and involved with our communities, youth, business activities and international affairs.
Rotary needs people like you to make a difference.
It doesn't matter if you're a student, a professional, a stay at home parent, a teacher, a doctor, a tradie or a farmer. We need young and old, retailers, gardeners, athletes, social workers, artists, grandparents and retirees too. If you have something you care about, and want to make a difference in your community, we need you!
Despite what you may have heard, you don't have to make a commitment to regular meetings. We're happy to take any help you can give! For some people that means occasionally turning a sausage at a fundraising BBQ, but for others that means planning major projects or travelling overseas to participate in humanitarian aid programs.
We are thrilled that you have taken the time to have a look at our website. Whether your interest is in networking, developing skills, making new friends, involvement in your community or ALL of the above, Rotary has something for everyone. Please get in touch and find out more. Getting involved with Rotary could be the best thing you ever do!