Lindsay Davis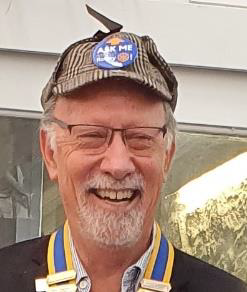 President 2022/23
As you can probably tell from the silly hat, our club mixes fun with tackling serious local and international issues via the resources of Rotary. 
Some of the things our fund raising efforts have supported are:
sending hay to drought affected farmers
assisting homeless youth
supporting bushfire and flood victims around Australia
assisting the Deaf-Blind community
encourage tomorrow's leaders in science, arts and entertainment and social awareness
provide families suffering natural disasters with temporary shelter, including fully functioning kitchens
The thing about Rotary is that there are Rotarians almost everywhere in the world. These people know what's happening and how best to assist people in need, plus make sure every dollar counts through their significant unpaid voluntary efforts. Often our financial support is directed to other Rotarians to make sure of the best outcomes, but we also look for worthy local and international charities and support them too.
A major international focus for Rotary is the eradication of Polio, which has also been strongly supported by Bill Gates with hundreds of millions of dollars.  Next on the list is the eradication of Malaria. Ambitious? No challenge is too large when you have a massive group of like minded people who are determined to make things happen. 
Our club needs like-minded people to continue to make a difference – people who believe in the Rotary ideal of Service Above Self.  We respond to local and international needs as they arise.  At club level we can only tackle a few and many times our response is driven by one member's passion for a particular issue.  As a member we offer you the same opportunity to put your case for a cause that is close to your heart.
It doesn't matter if you're in the workforce, retired, a student – whatever!  Our 7:00 AM meeting time for one hour means you've got the rest of the day to yourself. In fact, your day will be like no other after you've been stimulated by our fellowship, club discussions and regular guest speakers. We only have 3 meetings per month and if you can't make it every time then it's no big deal. 
Thanks for taking the time to check us out. Whether your interest is networking, developing skills, making new friends, involvement in your community or ALL of the above, Rotary has something for everyone. Joining Rotary could be the best thing you ever do!